The subject of human trafficking is often a difficult one to bring up in conversation. It's a dark topic, not a lot of people are informed about it, and it can make some people uncomfortable, whether they're adults, teens, or children.
But if you're a parent who is concerned about the safety of your children on the Internet, it is imperative that you not only inform yourself about how human trafficking happens in the United States and how traffickers operate, but that you also talk to your kids about the dangers that come with putting sensitive, personal information about themselves online.
With the growing dependency on the Internet for education in our schools, communication between family and friends, and obtaining news and information, it is important to initiate and have these discussions about human trafficking as preventative measures.
We've previously written about different ways to engage, educate, and protect your children online.
Sandy Storm, an author, speaker, human trafficking survivor, and DeliverFund's Director of Strategic Impact, offers specific guidance on her website on the kinds of questions you can ask your kids and how to talk to your child about human trafficking.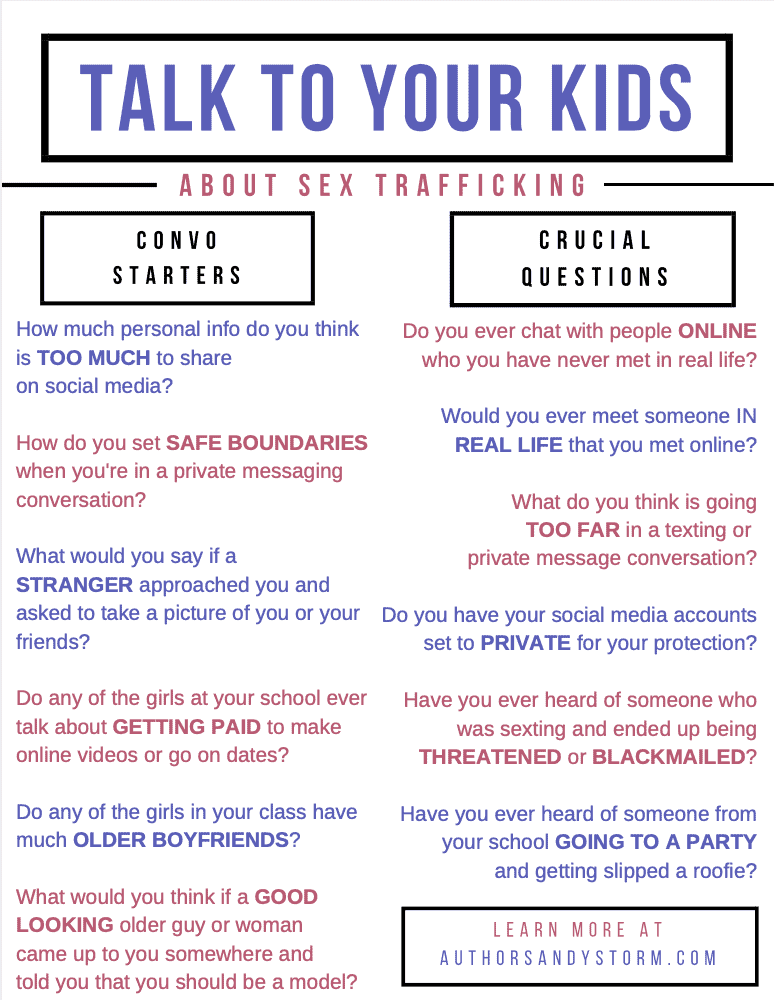 Conversation Starters
Questions to start a conversation with your child about human trafficking could include:
How much personal info do you think is too much to share on social media?
How do you set safe boundaries when you're in a private messaging conversation?
What would you say if a stranger approached you and asked to take a picture of you or your friends?
Do any of the girls at your school ever talk about getting paid to make online videos or go on dates?
Do any of the girls in your class have much older boyfriends?
What would you think if a good looking older guy or woman came up to you somewhere and told you that you should be a model?
It's important to point out that human traffickers don't always look like what many people would assume criminals look like. They also often enlist the help of women to groom potential victims and gain their trust.
Crucial Questions
Other important questions to ask your child or children include:
Do you ever chat with people online who you have never met in real life?
Would you ever meet someone in real life that you met online?
What do you think is going too far in a texting or private message conversation?
Do you have your social media accounts set to private for your protection?
Have you ever heard of someone who was sexting and ended up being threatened or blackmailed?
Have you ever heard of someone from your school going to a party and getting slipped a roofie?
Having these important conversations with your kids will not only better prepare them for navigating their social and (eventually) professional lives online, but it will also hopefully give you a better idea of what interactions your kids have already had.