Where Does Human Trafficking Happen?
Human Trafficking in the U.S.
Despite a common and widespread misconception, human trafficking is not just a problem outside the US. It also happens here, within United States borders, and in every state. 
The United States ranks as one of the worst countries in the world for human trafficking, with an estimated 199,000 incidents occurring annually. The number of reported cases, however, is much smaller. There were 11,500 reported cases of human trafficking in the United States in 2019.
Learn to identify the signs.
Victims of human trafficking frequently elect not to seek help due to a language barrier or fear of their traffickers or law enforcement. For this reason, stopping human trafficking often requires a third-party recognizing that a person they've observed may be a victim of human trafficking, and reporting it.
There are several signs anyone can spot to help identify human trafficking victims. These include lack of personal possessions or identification documents, signs of physical abuse or injury, a malnourished appearance, or avoidance of law enforcement, eye contact, and/or social engagement.
Report suspicious activity.
If you notice any activity, illegal or not, that causes you to suspect human trafficking is occurring or that someone you observe may be a victim of human sex trafficking, you can help to launch an investigation into your observations by reporting them to the local authorities.
Write down any information you can that may be helpful in an investigation, including time of day, address, and vehicle information, if available. Never attempt to confront a potential human trafficker or victim directly.
To contact the Human Trafficking Hotline call 1-888-373-788
Human Trafficking Statistics: In the U.S.
As of the last US human trafficking demographic analysis conducted by the Bureau of Justice for the period of January 2008 through June 2010, the most common sex trafficking victims were either black (40%) or white (26%), while the most common victims of labor trafficking were Hispanic (63%) followed distantly by Asian (17%).
Sex trafficking was the most common type of human trafficking occurring, with 8,248 reports.
Pornography and illicit spa and massage businesses were the most common venues where sex trafficking occurred.
One in five victims of human trafficking were believed to be children, exploited for child labor, child pornography, and begging.
Top States for Human Trafficking
The following are the 5 worst states in the U.S. for human trafficking in the US as of the latest reporting by the Human Trafficking Hotline in 2019.
Among the notable facts about human trafficking in the US relating to these figures, the four states with the most cases of human trafficking – Florida, California, Texas, and New York – have the highest populations in the country.
California
1,507 Reported Cases in 2019
Texas
1,080 Reported Cases in 2019
Florida
896 Reported Cases in 2019
New York
454 Reported Cases in 2019
Ohio
450 Reported Cases in 2019
Human Trafficking Arrests by State Map (2019)
(according to the FBI's Uniform Crime Reporting (UCR) Program)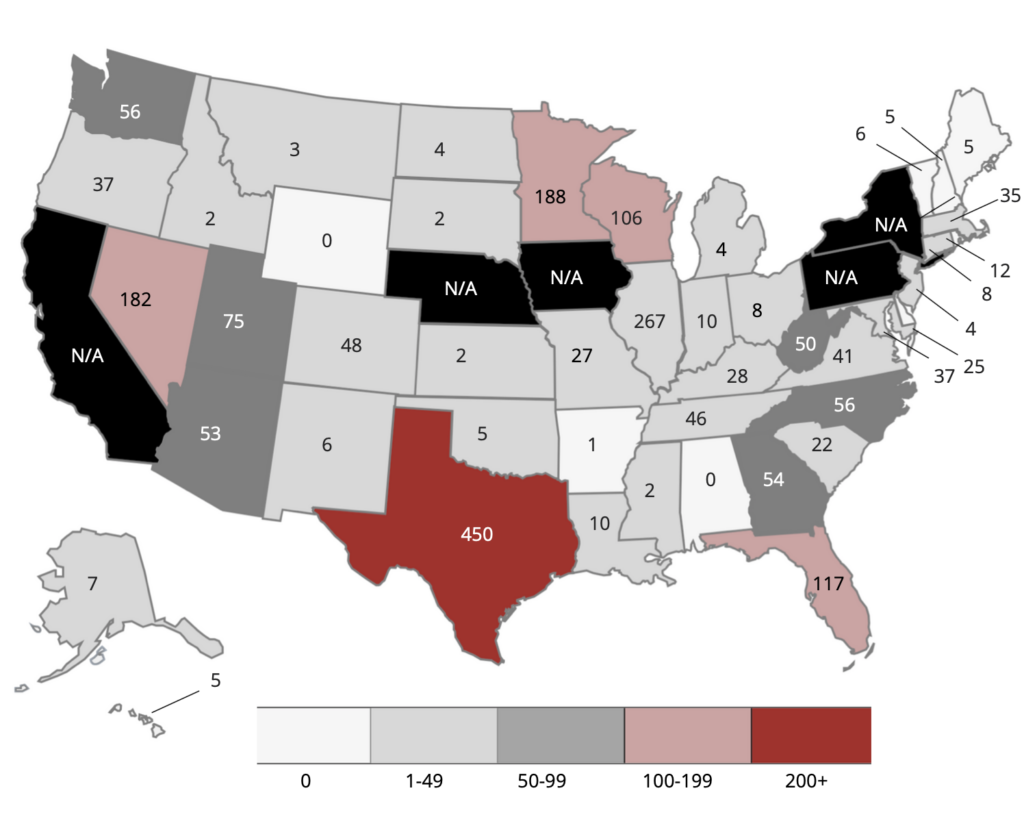 Common locations where sex trafficking occurs
Human Trafficking Institute's 2020 Federal Human Trafficking Report tracks the primary method that defendants in sex trafficking cases use to solicit buyers. The method of solicitation is determined by how or where a defendant locates buyers, including the following strategies: 
Human Trafficking in the Hospitality Industry
Human traffickers often make use of hotels or motels due to their privacy and constant flow of people on a day-to-day basis. Similar to other forms of human trafficking, these victims are typically immigrants without representation who work with no set pay or who have had their identification taken by their trafficker, who likely operates under the guise of an "employer."
But human trafficking in the hospitality industry is not limited to hotels or motels. Although these locations are common, service-based trafficking locations also include casinos or restaurants. In fact, if a place has a food service staff, concierge staff, or luggage staff, there is room for trafficking to occur since these labor-based jobs are all back-end and mostly out of sight.
What industries does labor trafficking affect?
According to the Human Trafficking Institute's 2020 Federal Report, "Traffickers exploit victims for labor in numerous industries, many of which are essential to Americans' daily lives."
In active forced labor cases in 2020, labor trafficking allegedly occurred primarily in the domestic industry, restaurants and other types of food services, and the hospitality industry.
Industries in 2020 Active Criminal Forced Labors Cases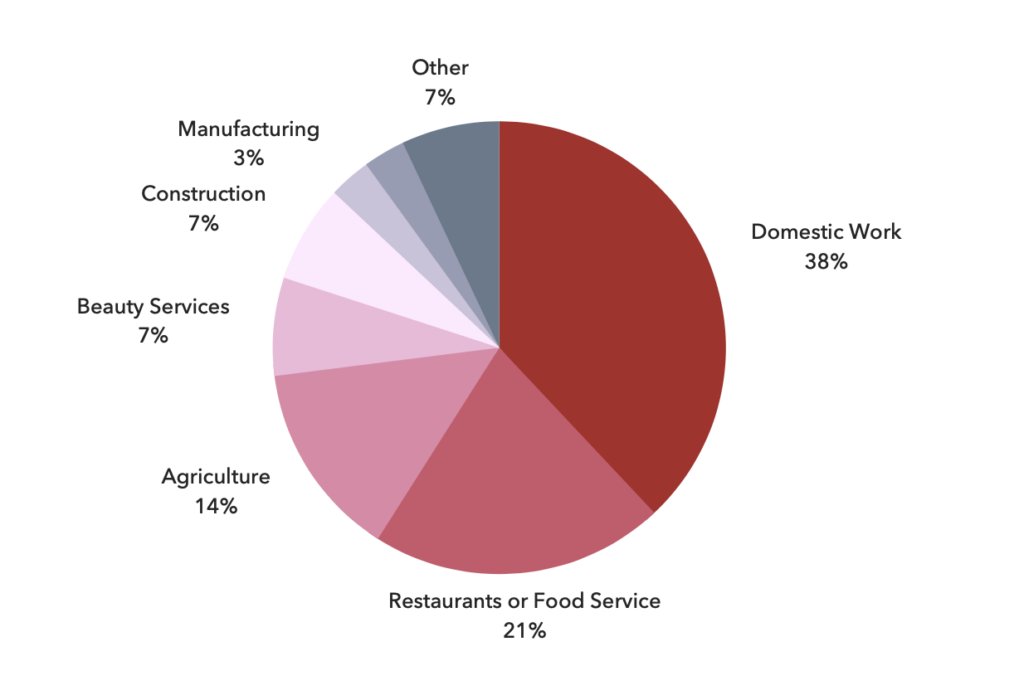 Every trafficking case represents a person who has been exploited by a predator. With your support, we can give our law enforcement partners the tools they need to solve more cases faster.
Help us #CRUSHEVIL on social media